11 janvier 2016
Dear Friends...
Easter is coming...Mother's Day is coming! Mark your calendar!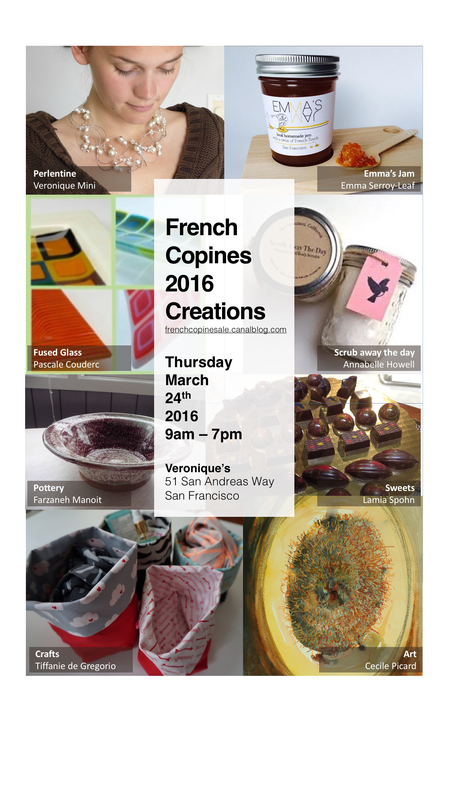 10 janvier 2016
Bonjour,
We are a group of friends, living in San Francisco, most of us are French...or francophile.
We are creative people, we love art, craft, handmade creations and food!
Visit our websites (in the column on right)
In a few words:
Perlentine by Veronique Mini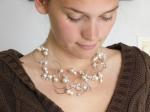 Veronique has been designing and making costume jewlery almost forever. What was first a hobby became rapidly a passion, she likes to mix different kind of beads like blown glass, crystal, wood, water pearls, resin…, on all kinds of support like wires, ribbons, buttons, fabric….The choice of beads is the essence of her inspiration, they drive her creations.
Everything is handmade by her. The jewels are simple, sometimes surprising and even funny, but always delicate and classy so that you can enjoy them everyday.
Emma's Jam by Emmanuelle Serroy-Leaf
Emma is a French mum who has been living for almost 15 years in San Francisco. She was born and raised in France in a region where orchards are one of the resources and peaches and apricots grow for years and years under the sun. Her grandmother and her mother always cooked jam at each different season of the year , so it is almost natural for her to do it .
Living in California where fruits are always there makes her happy ...and busy cooking her jam.
Time came for her to share with others her passion.
Fused Glass by Pascale Couderc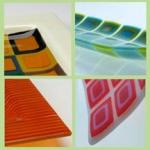 Pascale has been fusing and casting glass in the Bay Area for 10 years, making functional and decorative pieces in her kilns. As glass is all about light and colors her inspiration is mostly found in nature.
Scrub Away The Day by Annabelle Howell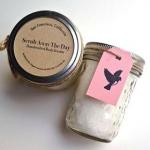 Scrub Away the Day makes handcrafted body scrubs made with natural and organic ingredients to nourish and exfoliate your skin; leaving your skin soft and refreshed. A beautiful line of handcrafted body scrubs that give you your spa experience at home in a mason jar!

Pottery by Farzaneh Manoit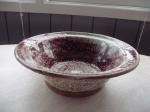 Farzaneh is an artist, and has been practicing pottery for about 15 years.
Sweets by Lamia Spohn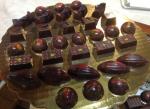 Lamia always loved cooking, especially desserts. Come and taste her Easter chocolates, Marshmallows and French Sablés!
Crafts by Tiffanie de Gregorio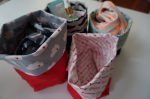 Tiffanie is fond of crafting and she recently got into sewing. Her world of fabric accessories: infinity scarves, fabric bins,..., and her origami decorations like light garlands combine both the beautiful and the practical.
Art by Cecile Picard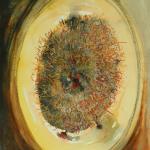 Cecile is a sculptor and a painter. In her paintings, she uses watercolor, graphite and oil paint. She also worked several years in the animation industry. And she works on design projects for the theater.
25 novembre 2014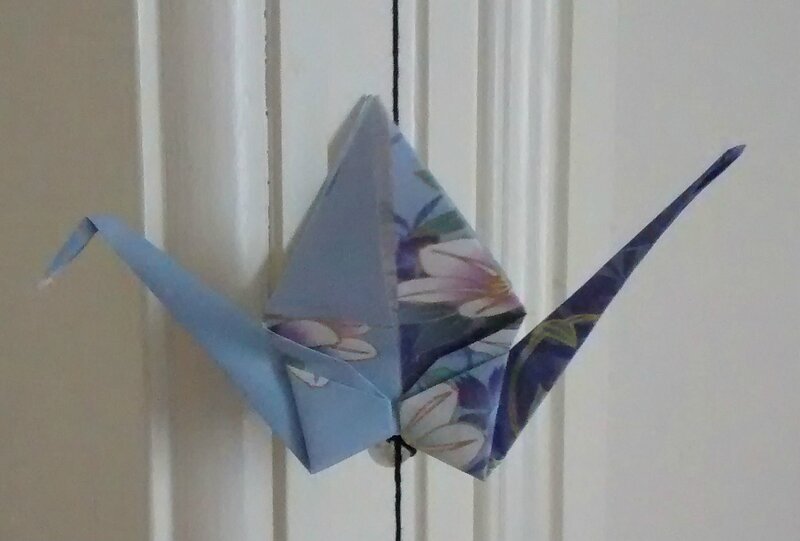 Tiffanie will join us for the first time this year. She is French and living in San Francisco for few years now.
She will enjoy to share with you her love for craft and papers.
So let enter the wonderful world of Japanese Papers and Origami through handmade objects that will bring a colorful and yet delicate touch to your deco! You will find garlands, boxes, frames, mobiles...


23 novembre 2014
PLEASE SAVE THE DATE , join and bring your friends ;-)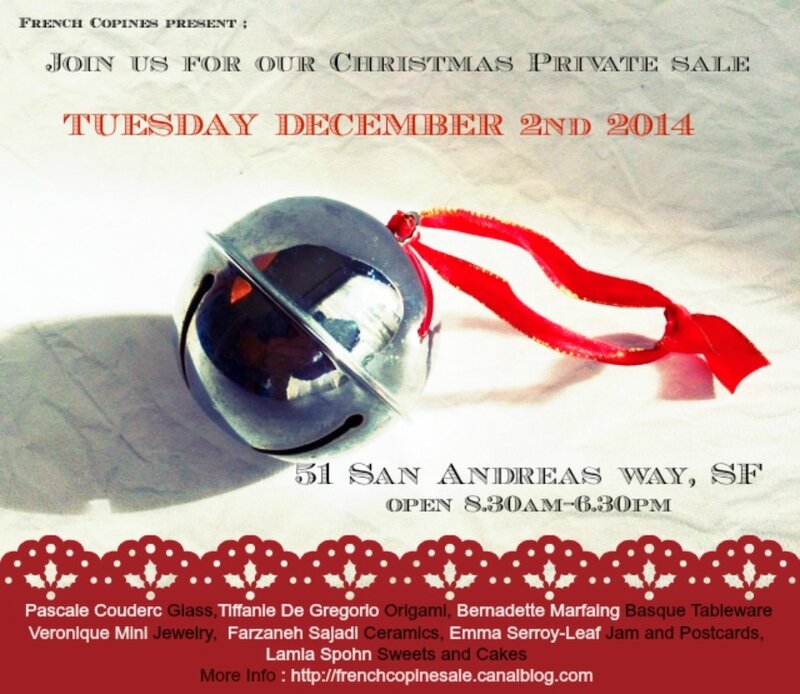 This year will be plesaed to welcome Farzaneh who is making ceramics for many years . She creates pots and bowls but not only... She will be happy to tell you the story behind each objects that she imagines
07 décembre 2013
Bernadette will be pleased to show some special products of Pays Basque (South West of France) Tableclothes, placemats, breadbaskets, dishtowels, beach and shopping bags, toilet and make-up pouches, bath towels, bathrobes for children, espadrilles.....Acrylic cutlery.


01 décembre 2013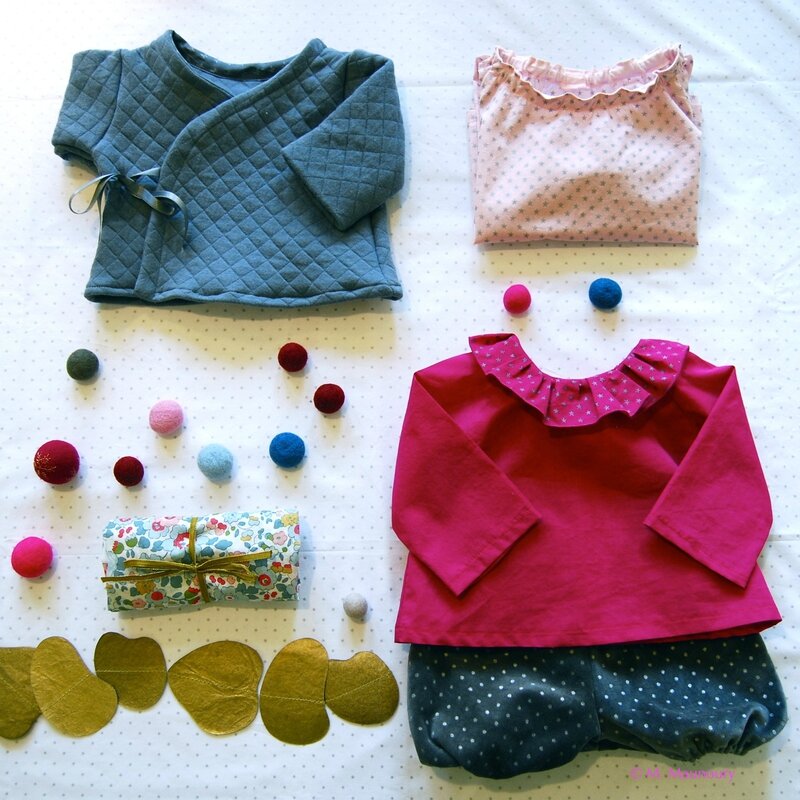 Myriam is so talented and has such a perfect taste: every clothe is handmade by herself in Liberty fabric. Clothes for babies and toddlers, and wonderful baby blankets.